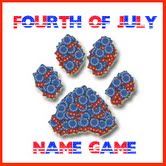 This has been so much fun!! We've enjoyed hearing how efurone got their names. So now, I guess it's our turn. Here we go!!!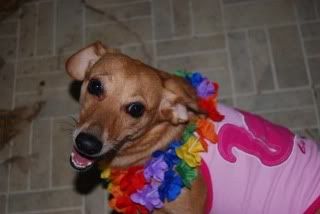 Unfortunately, there's not a lot to tell for Molly's story. The ladies at the humane shelter named her, when they rescued her. When Moms and Dad brought her home, they thought she looked like a Molly and kept her name.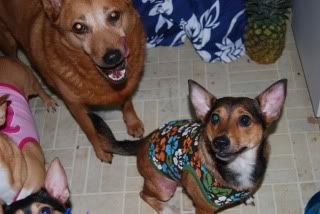 Shingo has an interesting story behind his name. Moms and Dad are REALLLLLLY big fans of the show Ultimate Ninja Warrior. One of their favorite competitors is named Shingo Yamamoto. He's the only contestant to have competed in every contest. His specialty is jumping. When Moms and Dad first got Shingo, his name was Digger. He REALLY jumped and jumped, and then he kept jumping. Moms asked him if he thought he was Shingo Yamamoto, and the name just stuck.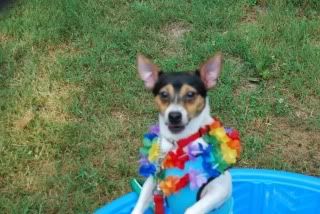 My name has an interesting story too. When I first wandered up to Moms and Dad, I was only 5 weeks old. I had been dropped out of a car, in front of our house. I was little and scared. Moms and Dad were so afraid that I would get hit by a passing car, that they brought me inside and kept me. When nobody claimed me, I became part of the family. Moms is a HUGE Indiana Jones fan. She had just heard that they were making the newest Indiana Jones movie after nearly 20 years! She just kept thinking about it and felt that I just looked like an Indiana. My full name is Indiana Bones Richardson. Moms and Dad still really like my name, and I do too!!
So, that's our edition of the name game!!
Efurone help yourselves to some more food and drinks, while we wait for it to get dark for the fireworks show. Feel free to keep the pool pawty going too!