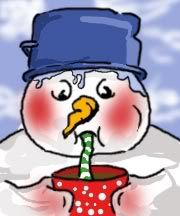 Moms says that there is a big winter storm headed our way. I'm not exactly sure what all that means, but she says there may be snow!! It's been cold here furever, but we've only had one snow so far this winter. All of us would like a deep snow to play in. We see all of our furiends bloggies, and they are all out playing in their winter snow. We want to join in.
Our furiends Bessie and Bladen have had so much snow and ice that their Moms made them wear socks outside to potty!! Check them out.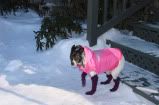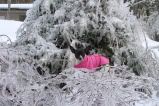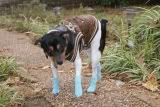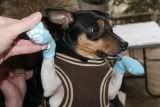 Even Dixie way down in the deep south in Cordele, GA has on her big winter coat!!!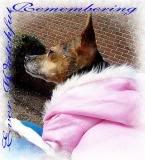 We would like some snow, but we hope that Moms doesn't get any bright ideas about snow socks for us. That would just utterly be the very last straw!!! We can warm our feetsies ourselves MOMS!!! Moms says that if it does snow later, that she and Dad will stay home or come home from work early, so all of our paws are crossed! We want to spend the day snuggling and playing in the snow with them!! Wonder if we'll ever get to play like this?