Moms had been wondering where Shingo had gone. She got a call from Moose down at the
Southernmost Moose Lodge
. Seems all of the Sporty Dogs from the
Mango Minster Contest
have decided to high tail it down to the Keys for a little trip. They ended up swarming (is that even a good phrase to use, when doggies are involved?) the Keys. It even made the local paper.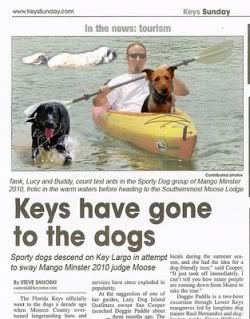 Moms and Dad were quite horrified, when they saw the paper! Anyway, Moms said she had a few words to say to Shingo, after she found out he'd taken off without telling anyone or inviting any of us! She made a few phone calls and finally got in touch with him. After the yelling and the scolding, she got down to asking him what he'd been up to down there. Later in the afternoon, she got a pee mail from him that included these pictures. Looks like he's been into some high adventures for sure!
First the contestants got chased by a giant lobster!! EEEK!!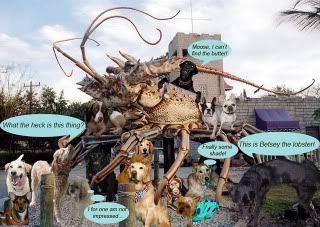 Then a group went out and did some parasailing one afternoon.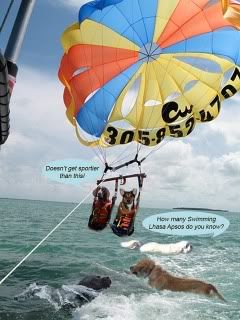 It sure sounds like he's having an exciting time. We can't wait to see what he gets into next, or how long he'll be grounded from treats, when he gets home!!