Moms has entered me in the
Bissell MVP Pet Photo Contest
. If she wins, whe wants to give the money to our local humane association,
The Shelbyville-Bedford County Humane Association
. She has been a volunteer there for 20 years!! They are operated by ALL volunteers too! That's where my sissies, Molly, Fergie, and Shiloh all came from. Here is the picture that Moms entered of me.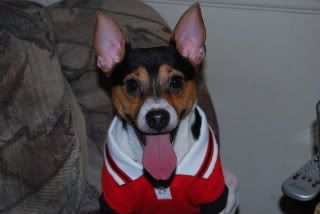 Please help her and vote for me, and please ask all of your friends to vote too! You can vote in this post, and we are putting the voting button on the sidebar too. Voting starts on
January 22 and ends January 28
. Thanks!