Well, I'm officially now a traveling man, oh erm, dog. Moms and Dad got me up early (before my usual piddle break) on Saturday morning. The sent me out to go potty but I was so excited, I just sat by the car and waited. They got the hooman cart loaded and ready to go, and we were off. I sat in Moms' lap, so I could navigate for Dad.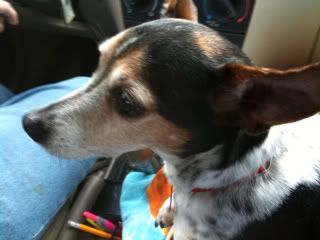 We got nearly to a place Moms calls Chattanooga, and since I had refused to go potty, my legs were crossing. So, I begged Moms and Dad to stop. They had the nicest piddle place at that place and a big water thing that Moms called Nickajack Lake.
Look at me!! I'm waaaay up on the hill!!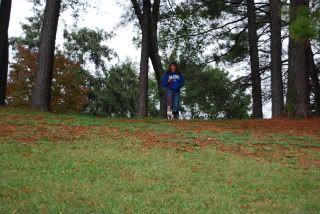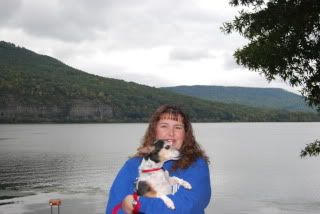 We got back in the hooman cart and kept going south. We made a few more piddle stops along the way. Some stops were for Moms and Dad, and some were for me. We finally got to the place called Cordele late in the afternoon. Moms and Dad went to get our crate ready for the night. (Do you believe they have these big buildings full of crates for Moms and Dads and traveling furkids?) The ladies at the desk were REALLY nice. They gave me treats! I really liked our crate. Especially the big comfy, fluffy cover on the bed!!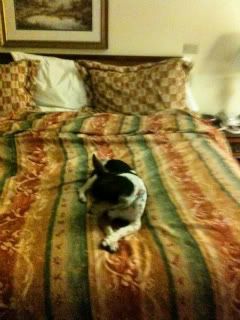 After a quick nap, we headed my friend Dixie's house and to see her Mom and Grandma, Linda and Della.
This is Mama Linda.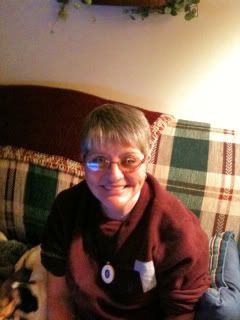 Mama Linda and Dixie.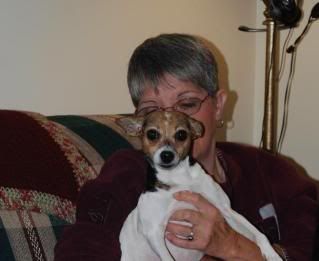 There were so many great people to visit with. Linda's hooman kid, Jason, was there. He was VERY nice, and I liked for him to pet me.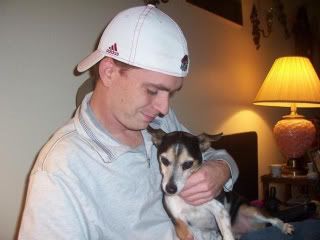 I also liked Grandma Della VERY much. She gave me supper and treats and a lifesaver the next morning too!
I had never met Dixie before, but I really liked her. We sat and visited on the couch on a great blanket, just for us!!
This is Dixie.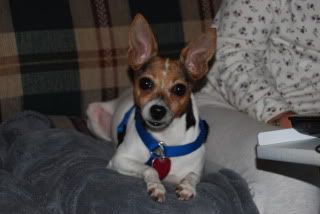 Visiting with Dixie.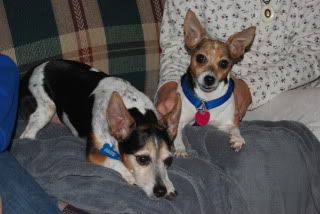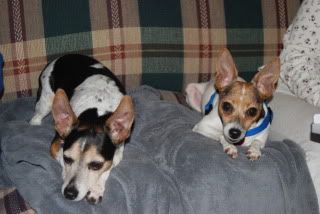 We were so tired, later that night, that we decided to catch a quick nap, while everyone else visited.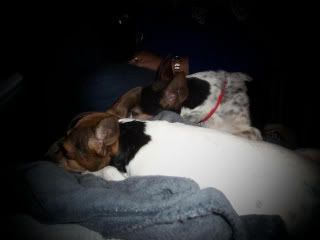 I was SO sleepy, by the time it was time to go back to the crate.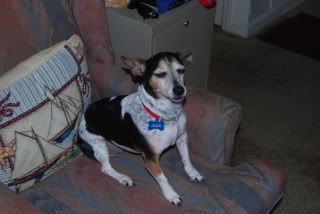 We all got some sleep, and I was raring to go the next morning, as you can see by this video!
Jack's Georgia Visit from Cheryl Richardson on Vimeo.
After some breakfast chow, we went back to visit Mama Linda and Grandma Della. We were only there for a little bit, because we had to get back home to my brothers and sisters. We had a nice visit and a long goodbye, and we were back in the hooman cart. I was SO tired by then from my big trip, that I rode in the back seat, where I could stretch out. Eventually I fell asleep.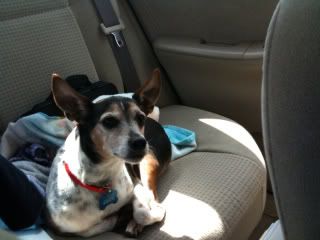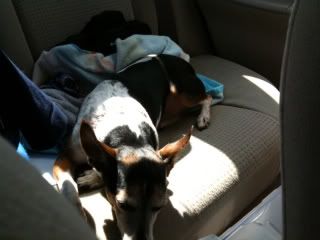 Before I knew it we were all back home, and my big trip was finished. I was sad, but Moms and Dad said we were going again at Christmas time. Oh boy! I can't wait!