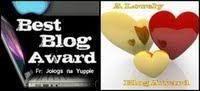 We'd like to thank our bloggie friends,
Dinah, Bridget,and baby Eliot
AND
Chewy, and Lilibell
for this wonderful blog award!! We appreciate the wags our way!! We are supposed to award it to 15 other blogs, but we want any of our blog friends to feel free to take it!! Ya'll are PAWSOME!!!