Yesterday after Moms got home from work, she was busy, busy busy! She was working on some Thanksgiving and Christmas stuff. She had to get all the good food, and she had to make our family ornament for church, and she had a bunch of errands to do too. She also got our very special Christmas outfits, while she was out. So now, we'll have new stuff to model for our bloggie. Molly is REALLY excited, because her outfit is a dress...(and we all know that she loves to flaunt her princess-ness in her dresses! Ughhh!)
It was way late, when Mom was finally able to sit down. We were so tired from the commotion, that we conked out with our pillow and blankie without her.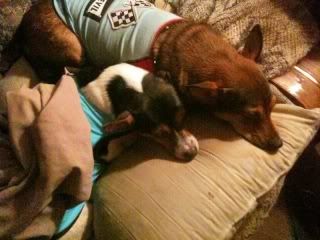 I'll be glad, when Mom is able to relax a little.