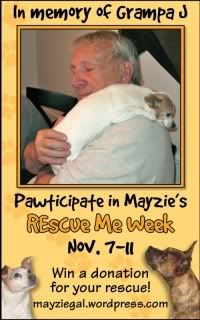 Our furiends Mayzie and Ranger are hosting a wonderful event over on their bloggie!! It's the
Rescue Me Event
, and it's on November 7th through November 11th! This event is to honor their Grandpa J, who has gone to the bridge. Here are Ranger's rules for the event:
THE RULES

1. Choose a pet currently seeking a forever home. Said pet can be on Petfinder or on a rescue's website.

2. Write about him or her on your blog during the week of November 7-11, 2011. It does not have to be the ONLY thing you write about, so feel free to write about something else that day if you wish. Simply elaborate on the adoptable pet somewhere in your post.

3. Include a link to the rescue listing or the Petfinder ad.

4. Include a link to Mayzie's blog.

5. To be entered for the drawing, you only have to write about an adoptable pet on one day. However, for each day you write about a different pet, you will get one entry – up to a total of 5 entries.

6. Once you have posted the adoptable pet on your blog, please notify us by sending an email to mayziegal AT gmail.com OR leaving a comment on our blog. Please include a link to your post.

7. We will maintain a list of everyone who is participating in the sidebar (updated once a day). Therefore, if you don't see your name/post, please notify us immediately.

8. On or about November 16, we will randomly select 5 names. Each winner will receive a $100 donation to the rescue of his or her choice.
This is a fabulous event, and may help some of our furry friends find furever homes!! Please join us and pawticipate!!