Recently, the makers of
By Nature Pet Food
sent us a big box of samples to try and review!! We got their
Natural Dog Food Dry
,
canned dog food
, and
canned cat food
. So, we jumped right up and volunteered to do all of the sampling!!
We started with the dry dog food: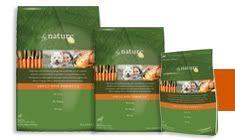 We have to say, that this is some mighty yummy food!! It doesn't have any artificial colors, so it looked funny in the bowl to us at first, but the taste was YUMMY!! We felt really good and full, when we ate it. Moms says she noticed that we weren't eating as much as usual, and she says that's a furry good thing! Also, she mentioned that she didn't have to do nearly as much poop patrol either. THAT made her REALLY happy!! We had no problems switching brands either. It didn't bother or upset our tummies one bit!
Then we tried the canned food:

The canned food was a REAL treat for us. Moms and Dad usually don't feed us canned food. They say that we make too many messes in the house, and it usually upsets our tummies! So, they were really hesitant about letting us try this. We are happy to report that it's DELICIOUS!! We woofed it right down. The upset and bothered tummies that Moms was waiting on never happened either!! It's so YUMMY (did we mention that before?)!
Next, our kitty brothers and sisters tried out the cat canned food:

Our kitty brothers and sisters are very picky eaters. With most canned food, they just lick the juice off it, turn around, and walk away. All of them just dove right into this food. Just like us, they had no upset tummies or messes either!!! That made Moms and Dad approve it right there!!
On the whole, we give
By Nature Pet Foods
a 5 PAW review!! In addition to their regular pet foods, they have a whole line of organic pet food too!!
They were nice enough to give us some samples to share with our blog furiends!! The 3rd, 7th, and 11th furiends to leave comments on our blog, will be sent some YUMMY samples. Please send your mailing addy and whether you want cat or dog food to fiestythree at gmail dot com Good luck and spread the word!!
EDIT: Is efurone avoiding us trying to get the free stuff? AROOO!!! Anybuddy out there? Let's change it up a little bit. Efurone leave your comments. We'll have Dad draw a name randomly out of all the comments submitted.