Each day, we would like to feature one of our doggie friends in their best Christmas gear. Everyone is welcome to join in. If you would like to participate, please e-mail my Moms your picture at:
moodyrichardson at yahoo dot com
Today's friend is Miss Dixie Doodle.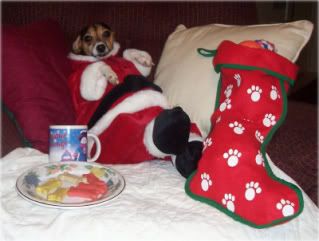 Miss Dixie is miniature Rat Terrier, and quite the character. She has many costumes and personas hehehe!! Miss Dixie belongs to Auntie Linda and Granny Della, who we LOVE A LOT!! Auntie Linda runs a forum called:
Lovearat.us
Come on over and visit us all there!!