We need to apologize to efurone for not being around lately. Moms' school was on this thing called Spring Break last week. That meant, she got a REALLY long weekend!! The weather was VERRRRY gloomy, so we just mostly were lazy at home. We watched a lot of movies and took LOTS of naps together. This is how we spent most of the long weekend.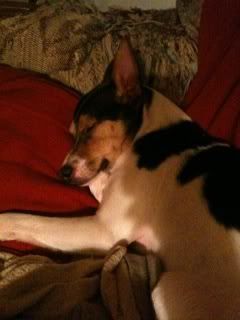 Hopefully the weather will clear, and I can get lots of practice walkies in this week. I've got to get ready for my big day this Saturday! I have to do my part with Mom to help out the Spay/Neuter clinic!
We promise to get around to efurone's bloggies real soon. We've really got some catching up to do!