We know that many of us like to exchange holiday cards. Does anyone know if
DWB
is doing the Christmas Card exchange again this year?
Anyway, we want to tell you of a PAWSOME Christmas Card promotion. Right now,
Shutterfly
is having a sale on their Christmas Cards. 20% off!! This was our card that we ordered from
Shutterfly
last year: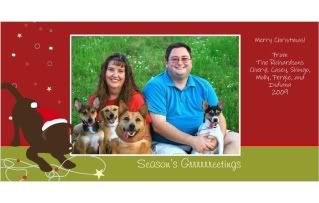 To see their entire selection of Christmas Cards click
HERE
.
Moms had better get right on ours now! We've ordered LOTS from
Shutterfly
before, and we really like their work. EVEN BETTER, they are offering bloggers 50 free cards for doing a blog post about them. We LOVES fureee stuffs!! That's will help, especially since we are going to have to order about 87 million cards, between ours and the ones that Moms and Dad send out! (They don't even realize that we are WAAAAAY more popular than they are!! HEE! HEE!)
Join in
and receive your free cards!