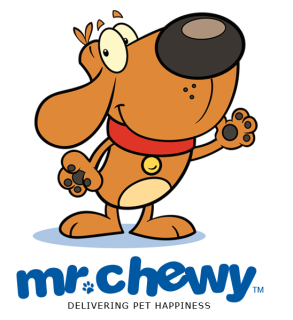 Mr. Brent, who is so furry nice, from
mrchewy.com
contacted us again and offered to let us try Orijen food for free!! Of course, we all jumped at the offer, and so did Moms! We could pick anything to try, so we picked the
Orijen Regional Red All Life Stages
.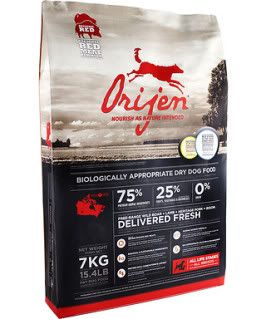 As always, the shipping was Bunny fast quick! We had our new food in only a day or so! It's so nice to get the foodables delivered right at the front door!! We couldn't wait for Moms to get home, so we could dig in and give it a try! Finally after much begging, Moms opened the bag and let us try some. Let me tell you, it was SUPER DAWG delicious!! It is the first time EVER that we have fought over dry food! We are usually good about sharing, but Moms had to get out all of the extra bowls. Dad commented that it looked and smelled like beef jerky. Needless to say, it took us no time to blow through the sample bag. Now, we just can't wait for Moms to order us some more. We're listening for the knock at the door for the mrchewys.com delivery man!
Again, our experience with
MrChewy.com
was PAWSOME!! We'll definitely be ordering from them again! Be sure to drop by their website, if you need any food or treats!! Be sure to tell them we sent you too! They have the coolest furiend referral program. Everytime you order and use our code: FIES9917 at checkout, the proceeds will be split evenly between
Best Friends Animal Society
,
Bidawee
, and
North Shore Animal League
. You'll get a 10% discount on your order too!
Be sure to visit MrChewy on Facebook:
https://www.facebook.com/MrChewyPets
and Twitter:
https://twitter.com/#!/MrChewy